GlucoRx X6 Multi-Functional Meter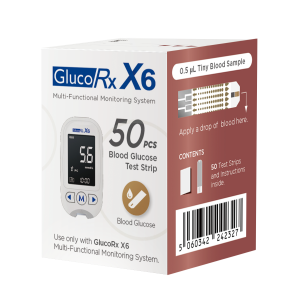 Diabetes management solution.
GlucoRx X6
Total Cholesterol (10)
For those concerned about their heart and cholesterol health.
GlucoRx X6
Uric Acid (10)
Useful to measure if you have a health problem that can cause [i.e. gout] or be caused by high uric acid levels.
For people with insulin dependent diabetes or healthy people on a keto diet.
Helps amateur athletes appreciate the concentration of lactate produced at different exercise intensities, indicating how they are obtaining energy at each applied speed.
GlucoRx
X6 Triglycerides (10)
Evaluates risk of heart disease.